...that is, if we had a trophy cabinet ...and if the awards we won included a trophy. We do however have a cracking looking certificate to add to our collection!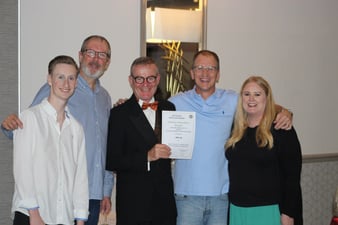 MIP UK are super proud to have been presented with the Industry Innovation Award for Promoting Excellence in Manual Handling at the National Back Exchange Conference 2019. This is the second year in a row that MIP have taken home the accolade.
The Industry Innovation Award is voted on by the conference attendees (namely manual handling experts, trainers, and clinical directors), so this recognition is a fantastic achievement.
Here is the MIP team being presented their award by Simon Love, Chairman of the National Back Exchange.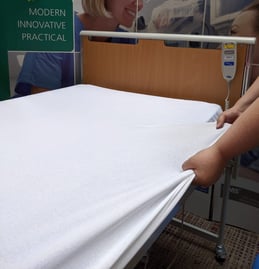 For this years event, MIP focused on offering a new approach to the issue manual handlers often talk about; carers not using the correct equipment.
Our solution is "updating your bedding to prompt the use of Slide Sheets with the SleepKnit SmartSheet". Unlike standard bedding, the 4-way stretch of the SleepKnit SmartSheet design won't allow for the repositioning of a patient, it simply stretches when pulled.
At the National Back Exchange Conference, the MIP team talked to a number of manual handling experts who agreed this was a different way of looking at improving the use of slide sheets and correct handling equipment.
Click below to watch our very own Christopher O'Connor explaining this concept further...
MIP UK previously won the Innovation award in 2018, for the affordable Swift System, the in-situ bed repositioning system. We look forward to showcasing our new ideas and innovations at next years conference!
Talk to MIP today to see how we can help with your moving and handling solutions.