Day two of the National Back Exchange Conference 2019 is well underway and with that, we would like to share some of our key moments from the past day and a half...
A big round of applause for everyone who has visited our exhibition stand, especially all those who have attempted our shark game, winning some exciting MIP prizes. Up for grabs are our colourful notebooks, fruit infusing water bottles and MIP sunglasses! You may have seen our MIP stickers around the conference. To get one for yourself, pop by our exhibition stand in the Rotunda. (We're opposite the food - bonus!)
Our Key Moments:
Steve Gould (MIP UK Business Development Manager) - "The positive reception from professionals on our Swift products with regard to it's functionality and price point."
Christopher O'Connor (MIP UK Business Development Manager) - "The continued enthusiasm from the moving and handling specialist for our award winning product range, this always makes attending the NBE a pleasure."
Kristina Warwick Smith (MIP UK Product & Marketing Manager) - "Listening to the latest learning's in the industry and the pressure points people are facing on a day to day basis. I'll think about what I've heard and look to see how MIP can answer or support the issues in the future."
Tim Mellor (MIP UK Marketing Assistant) - "Listening to and talking with so many patient re-positioning and manual handling professionals. There's a lot I can learn from the conversations and there's nothing better than hearing first hand how our products are making the lives of those in care better."
If you are attending the event and you have the NBE Conference app, our SleepKnit SmartSheet is running for this years Industry Innovation Award. At MIP we often get told that one of the biggest problems that manual handlers face is getting carers to use the correct equipment. The 4-way stretch of the SleepKnit SmartSheet (unlike standard flat sheets) doesn't allow for repositioning, prompting the use of slide sheets. Innovation isn't always the most expensive pr technologically advanced solution, but sometimes just trying to solve a problem from a new perspective. Do you like what you see? Vote for MIP UK!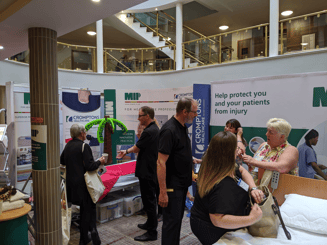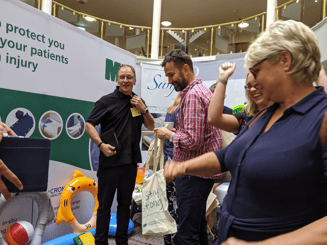 The NBE Conference is a fantastic event, and we are so happy to have seen so many familiar faces and some new ones too.
Keep posted on the MIP UK Facebook, Twitter, LinkedIn and of course the MIP UK blog for updates on our road trip to the National Back Exchange Conference 2019.