Exhibitions are a powerful marketing tool, providing a platform to promote to a wide, but targeted audience.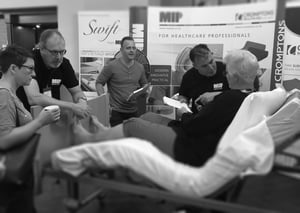 THE COST OF EXHIBITING IS NOT CHEAP.
On the surface the hire of stand space can often be a big investment and on top of that there's travel costs, hotel accommodation, meals, event banners / stand equipment, literature, logistics, promotional items etc. Not to mentioned the time costs of those organising and manning a stand.
After an event, as a measure of success you can look at how many leads or sales you achieved, but you can also look a little deeper.
Here at MIP UK we attend exhibitions within the healthcare industry, with a focus on manual handling. Of course we have our products on display, and we love nothing more than to offer up demonstrations and information to the visitors to our stand. We try to make the stand fun, friendly and inviting so delegates feel confident and comfortable coming to talk to us, and perhaps return with their friends and colleagues, and spread the word about our fantastic products.
MY FAVOURITE PART OF EXHIBITING IS LISTENING.
How often is it you get the opportunity to talk to, and engage with so many industry professionals?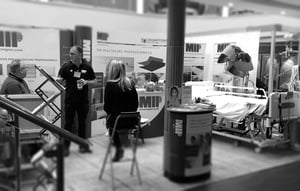 I love to ask the questions: "What's important to you?", "What's your biggest bug bear?", " What do you wish was made easier in your job?", "If you could change one thing about your industry what would it be?".
Understanding the current "pulse" of the industry, and the key issues should matter to all of us...
...What works for people and what doesn't? Are there issues that need resolving? Is there a gap in the market for a new product/service? Do we need to add / tweak our current offering? Are there better ways to use our products? Do we fully understand the needs of our customers? What does the future of the industry look like?.
This is the less obvious benefit of exhibiting, but to me it's the part I love, and where I get the most out of.
What is your favourite part of attending an exhibitions? Leave your thoughts in the comments below.
MIP are exhibiting at the National Back Exchange Conference 2019 in Hinckley next week.
If you are attending the event and want to come and tell me your story, I'll be on our stand in the Rotunda, ready to listen!
Kristina Warwick Smith